Into the Wild!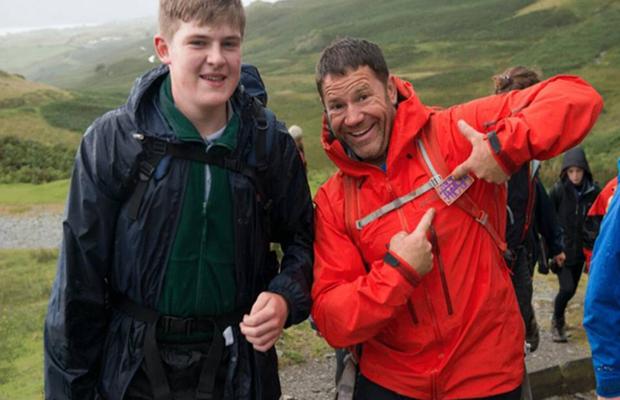 My Into the Wild Experience
In August 2017 I was lucky enough to win a place on the scout associations into the wild event with Steve Backshall and Helen Glover, a twenty-four hour event in the Lake District during which I practiced my survival skills alongside two of our scouting ambassadors and 17 other scouts from around Great Britain.
How I got my place
I was actually informed of the competition from one of my fellow explorer scouts at Stingray E.S.U. who'd decided to enter, I thought I was in with a shot of winning too so I also filled out the application. The main purpose of the application was to show what things we as young people have done to benefit our local community and develop our local scouting groups, districts or even counties.
In my case I wrote about how I pulled a bunch of explorers together to help improve our county campsite Raywell Park. The challenge set by members of the Raywell committee and the City of Hull DC at the time, Gary, was to get 20 young people to attend a Raywell work day and in return we would get free indoor camping for the night. I had managed to get 40 young people and adults to attend, doubling my target to begin with.
I also wrote about how I designed the 2017 Hull City of Culture badge that is currently being worn on the uniforms of Hull scouts and is soon to be the centre piece for the Hull scouts monopoly run T-shirt and how I also volunteer with the local charity TCV. Soon came the day I received my email regarding how I had won the competition, a month before the event in July which also happened to be the same day I finished my practice gold DofE expedition, so couldn't really believe it being that tired!
Before the event
The event didn't officially start until 1pm on the Monday, but a small group of participants including myself stayed over the Sunday night at the scout adventures site: Great Tower. I was one of the first to arrive and was kindly greeted by the deputy UK youth commissioner, Jagz who knew as little about the event as we did.
As time went by more people began to arrive from as far away as Devon, Wales, Scotland and London until eventually the scout adventures leader, Asa, arrived with our food and showed us our accommodation for the night (which included a very posh coffee machine). We all soon began talking like we had been in scouts together for ages with conversations about everything from jamborees to school cows (long story ...). Speculation began to grow about what Steve and Helen would be like and we started thinking of questions for them (such as what car does he have), we also began to think about who else we would be meeting, thinking they would all be local since they were coming up the same day as the event (we were wrong...).
The next day we were told we had to be out of the building by 10am so it didn't spoil the surprises the leaders had lined up, we were quickly introduced to two other participants who had just arrived and soon began a quick fire name, age, location, interesting fact hot seat as more people began to arrive from all over such as Bradford, Norfolk and Kent. As soon as everyone was there Steve, Helen and the organisers arrived, for the safety brief Steve and Helen joining us on the wooden benches almost as if they were fellow participants.
Day 1
Once we had chance to pack our bags and have some lunch we were split into team Helen and team Steve, myself been a member of team Helen (by far the best team!). We then went on to do some ice breakers on site including jumping through a rope and playing with LEGO (actually turns out to be more fun than it sounds) before we navigated (honestly, no one got lost ...) to four different bases each used to teach a different skill including fire lighting, shelter building, knife skills and first aid.
We were then immediately shipped off to a launching point on Windermere where team Steve had just beaten us to, we just began kiting-up when team Steve's canoe launched obviously, the twice Olympic rowing champion Helen couldn't let her husband beat her in water sports and she quickly managed to get us to sail past the other team and beat them by a good 5 minutes. Upon landing we were greeted by the leaders who had provided drinks and a stack of chocolate bars (I didn't take 3 double deckers and 2 mars bars honest!) After a quick break and a photo shoot we were soon off walking again which was the first chance we had to talk to Helen and Steve without thinking about everything that was going on, I soon started talking to them about my volunteering with TCV, which with them both being engaged with nature seemed very interested to hear about it . Up until this point it had stayed remarkably dry but then it began to rain. And definitely didn't want to stop.
The night
We arrived at our camp for the night, literally nothing but a birch / oak woodland containing a broken dry-stone wall and a plastic box with a saw, axe, knife, toilet paper and a flint and steel inside. With it still tipping it down we split into our two groups and began to set up our campsites, team Helen decided it would be best to split into a further two groups, one would concentrate on trying to light a fire and the other would collect wood and build a shelter. Time went on and we began questioning whether we had won a competition or walked into a lord of the rings production, the rain prevented us from creating any form of fire for ages (our team forgetting we had a roll of dry toilet paper in the plastic box) and the shelter building taking up such a long time as we had to collect ferns and wood strong enough to hold them.
At this point we were all called to the leaders camp where we were given a demonstration on skinning rabbits (however we spent most of the time stood around their fire watching the rain water evaporate from us on a never-ending scale) and were then told to skin four rabbits for our team which I and another did for ours whilst the others boiled water from the stream to cook rice and make a stew with the vegetables we were given.
After about an hour and a half preparing rabbits and with the rain still not showing any sign of stopping, we arrived back at camp to find the fire was lit and the shelter was built. We all then huddled around a tiny fire and watched the food cook. At about midnight we had our food (I also remembered I had a stash of half melted double deckers left in my pocket, which went down nicely at this time) and Helen and Steve retreated to the leaders camp, leaving us to try and squeeze into a very wet, very small shelter which I found contained a small tarpaulin which was kindly donated from one of the scout adventures team (they must have known what was to come ...).
We soon found there was no chance of getting any more than four in this shelter so I and three others decided to use the dry-stone wall, a tiny tarpaulin and a bivi bag someone had brought with them as our shelter which was great, for the two squeezed in a bivi bag in the middle of us, but not so great for me and the one on the other on the end, both half sticking out of our folded tarpaulin, exposed to the cold wind with the rain dripping on us laying in a puddle of muddy water. It seems the wild really didn't want us in it so I decided sleep wasn't worth that much effort and went to the fire, threw some logs on it and warmed up as much as I could, I was soon joined by Hannah from the other end of our tarpaulin and another scout from the actual shelter who had also had enough of the rain.
By this time it was around three a.m. and we sat there for about two hours waiting for the sun to come up (at this point I had just remembered there was a box containing dry toilet paper which I used to dry my hands, feet and face which had being wet for about 10 hours. They didnt stay dry for long...).
Day 2
Five a.m. sharp and we were finally told to get our things together and eat the ration pack breakfast we were provided with (I'm not sure they've ever seen three people happier to get up at five in the morning). We were soon reunited with our team leaders Steve and Helen and the rain finally began to stop. We then walked back down to the launching point on Windermere and got on to two minibuses. We took a bus journey to Coniston Old Man driven by the deputy UK chief commissioner Mark Tarry where we were presented with a bag of dry clothes and a view of a rainbow making the rain seem slightly more worthwhile (but not by much).
Climbing the mountain
At about half seven we began walking up The Old Man of Coniston, after the night we had it was rather tiring but nothing would dampen the enthusiasm we had, on the way up I took the opportunity to present both Steve and Helen with one of our City of Culture badges to which they both seemed very pleased to receive. Once we reached the top it was a quick photo shoot then straight back down again where we were graced with the view over the lakes, which on the way up
was hidden by the clouds. It was now we all took the opportunity to have a picture with Steve and Helen before we made our way back to the mini bus where we found a species of dragon fly which Steve was very keen to tell us about (species, sex, age, what it was doing, he knew it all straight away!). Once we were back we were greeted by our parents and presented with certificates signed by Helen and Steve to prove to people this all really did happen.