#Scouting4All at Hull Pride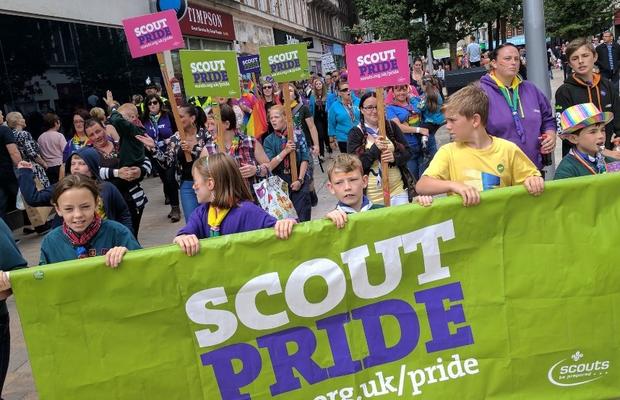 On Saturday 22nd July, a record number of Scouts from across the City joined forces for this year's LGBTQ+ Pride. Why? Scouting is committed to equality, diversity and inclusion, but actions speak louder than words! And what better way to shout for Scouting, than at the first official UK Pride?
Explorer Scout, Amelia, said: "Being part of the Pride celebrations with the Scouts was really important to me, as I recently 'came out' to everyone I know. Scouting supported me and showed me it's okay to be me. Linking arms with my Scouting friends at Pride was therefore such a proud and surreal moment."
Kester Sharpe, Deputy UK Chief Commissioner, said: "It was fantastic to join so many fellow Scouts and take part in Hull (or should I say, UK) Pride. The reaction from the huge crowd to seeing us was brilliant. Pride is a celebration of equal rights and inclusion, and gives Scouting an opportunity to showcase that we are inclusive and open to all."
The date for next year's Hull Pride has already been set for 21st July. If you want to help celebrate #Scouting4All, it would be great to see you all there!
In the meantime, check out the photo gallery from this year's LGBTQ+ event.